Pressrelease
Biograpy
Cover Art
Photos
MARCHING BAND – "SO MUCH IMAGINE" OUT JAN 21, 2014!
Marching Band is an indie-pop band based in Malmö, Sweden and Berlin, Germany, formed by Jacob Lind and Erik Sunbring. Their new album, So Much Imagine, is due January 21st, 2014. The songs were written and recorded during a two year period when Jacob and Erik were moving away from Linköping, their student city and home for the last seven years. Moving closer to their respective girlfriends and further away from each other made them work even harder to perfect the ultimate follow up to their albums Spark Large and Pop Cycle.
Marching Band's debut album Spark Large was recorded in sunny Los Angeles, CA with Adam Lasus (Clap Your Hands Say Yeah!, Yo La Tengo), and Pop Cycle was recorded during the two most miserable winter months of the year in Stockholm with legendary Swedish producer Jari Haapalainen (Ed Harcourt, Camera Obscura, The Concretes). The new recording was made over a much longer period of time. This was possible because Jacob and Erik recorded it completely on their own, working in their own studio. The ultimate result is a musically diverse record. The lyrics are more personal than ever, yet So Much Imagine still has the trademark Marching Band sound – intricate melodies and complex arrangements with an effortless, undeniable pop-feeling.
In 2008, Jacob and Erik released Spark Large, their first full-length album on U & L Records. Upon hearing it Rolling Stone's "Hype Monitor" wrote: "The Swedish duo crafts their own brand of pillowy pop, brightened with bands of psychedelia." They quickly gained early radio support in Los Angeles when tracks from the debut surfaced on KCRW and INDIE 103.1. In the months to follow their music found fans at NPR where they were featured on "World Café," "Second Stage" and "Song of the Day." Marching Band was also featured in Billboard's Underground Column and got the attention of one of the most discerning critics – Pitchfork. Allmusic Guide wrote about the "little rhythmic and moody pop nuggets" of 2010's Pop Cycle: "Ultimately, as with all of Pop Cycle's material, songs like the swirling, piano-driven opening cut "Another Day" and the sparkling "Uncomfortably Numb," while melancholy and bittersweet in tone, still grab your ear as much as they break your heart."
In addition, Marching Band has earned the attention of music supervisors for both film and TV. As a result their songs have been featured in Zombieland (Sony Pictures), Nick And Norah's Infinite Playlist (Sony Pictures), How I Met Your Mother (CBS), Scrubs (ABC), 90210 (CW), The Ex List (CBS), Jersey Shore (MTV) and Cougar Town (ABC).
Now Marching Band's much-anticipated album, So Much Imagine, is set for a Jan 21, 2014 release on UNCrecords in Europe, and U & L Records in North America (it was released  October 8th, 2013 in Japan by &records). The new album is a full sounding, ear tickling compilation of songs and sure to win them even more fans.
For more information please contact Urband & Lazar Music:
jonathan@urbandlazar.com
Or the band themselves:
contact@marchingband.se
—————————–
Biography
About the album
"So Much Imagine" is a new album from Marching Band. It's being put out by the band themselves together with Urband & Lazar Recordings and &records. Here are a few thoughts from Erik Sunbring and Jacob Lind of Marching Band:
About our sound
With two full lengths under our belts, we're sounding a bit older but also a bit rawer. The worst youthful enthusiasm is gone and instead there is a new honesty. Can you really make Good Pop Music during the last gasping years of your 20's? We think so. While recording we didn't have a fixed sound in mind, but instead we've had time to try out what sounds we actually like in the studio. But one thing we've consciously been avoiding are big reverbs, which we think are a bit overused at the moment, and will sound early 2010's (in a very bad way) very soon.
About producing it on our own
We really enjoyed working with producers Adam Lasus and Jari Haapalainen on our previous records, but now we wanted to go back to true DIY, just like we did it in the beginning, using all the knowledge we've gained from working with professionals. It gave us more time to work on the songs. What previously was a part of pre-production and demoing now became a part of the recording process, which made that process more creative and enjoyable. That also had the effect of making the songs less dense; there are fewer tracks on each song, which was also something we wanted to explore.
About the theme of the record
This recording is as much "we" as it gets. It's a really personal recording, showing the differences between the two of us as songwriters and how our opinions sometimes differ. The songs on the recording cover a broad spectrum of song styles and emotions. We don't go for just one sound or emotion, searching for the perfect song for that specific sound. Records with that focus often only have a couple of good songs at best, and the rest of them are just bad versions of the good ones. We like the shitty songs on the Beatles' "White Album", they're actually not as shitty as people think.
About our lyrics
The lyrics are pretty unfiltered versions of our private thoughts. Most people don't listen that closely and don't understand what you mean anyway, so we just went for it and wrote about what's closest to us, even if it's too revealing some times. Some of it is pure fiction though, and one of the lyrics was even written by a friend of us. The listener, thankfully, won't know which is which. It's a record about nothing and everything.
About the instrumentation
It's still mainly just the two of us recording everything, except for the viola, saxophone and some of the brass. Cherilyn Macneil (Dear Reader) contributes with vocals on one song, "But Not Anymore (Ja Ja)", and our live lead guitarist Benjamin Forsberg also added some harmonies and guitar licks to the record.
About the mix
The record was mixed by Henrik Sunbring at his studio Helter Skelter in Stockholm. Henrik is Erik's second cousin and this is the second time we work with him; he did a remix of one of our early demos of the B-side "Home Alone VI" six years ago. He added a real family feel to the process and was really good at listening to our ideas for the songs. He kept the sound clear and simple like we wanted it to be and managed to improve and simplify what we had already done without changing too much.
About the cover art
The cover art was made by long time friend Samuel Oscarsson who also did the artwork for our early demos when we all lived in the same flat in Linköping. He has a magic mind and we've given him full artistic freedom in visualizing our music and personalities in graphics. We're very proud and excited that he chose to give us of his time and talent.
Things we like
Straight forward music. People who do what they want, not just trying to be "smart". Ambition.
Things we don't like
Toms with big reverb. Male harmonies with big reverb. Singing with a fake bad english accent. Sepia tones.
———————–
The cover art for the album.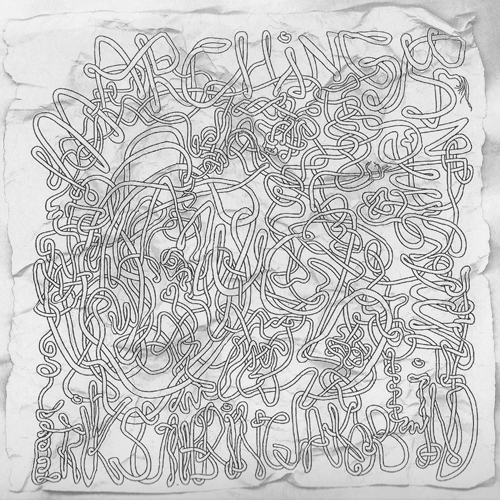 ———————–
Photos from the studio.
MBhalf.jpg
MBhouse.jpg
MBlight.jpg
MBmix.jpg
MBstand.jpg
MBstudio.jpg
MBtrumpet.jpg